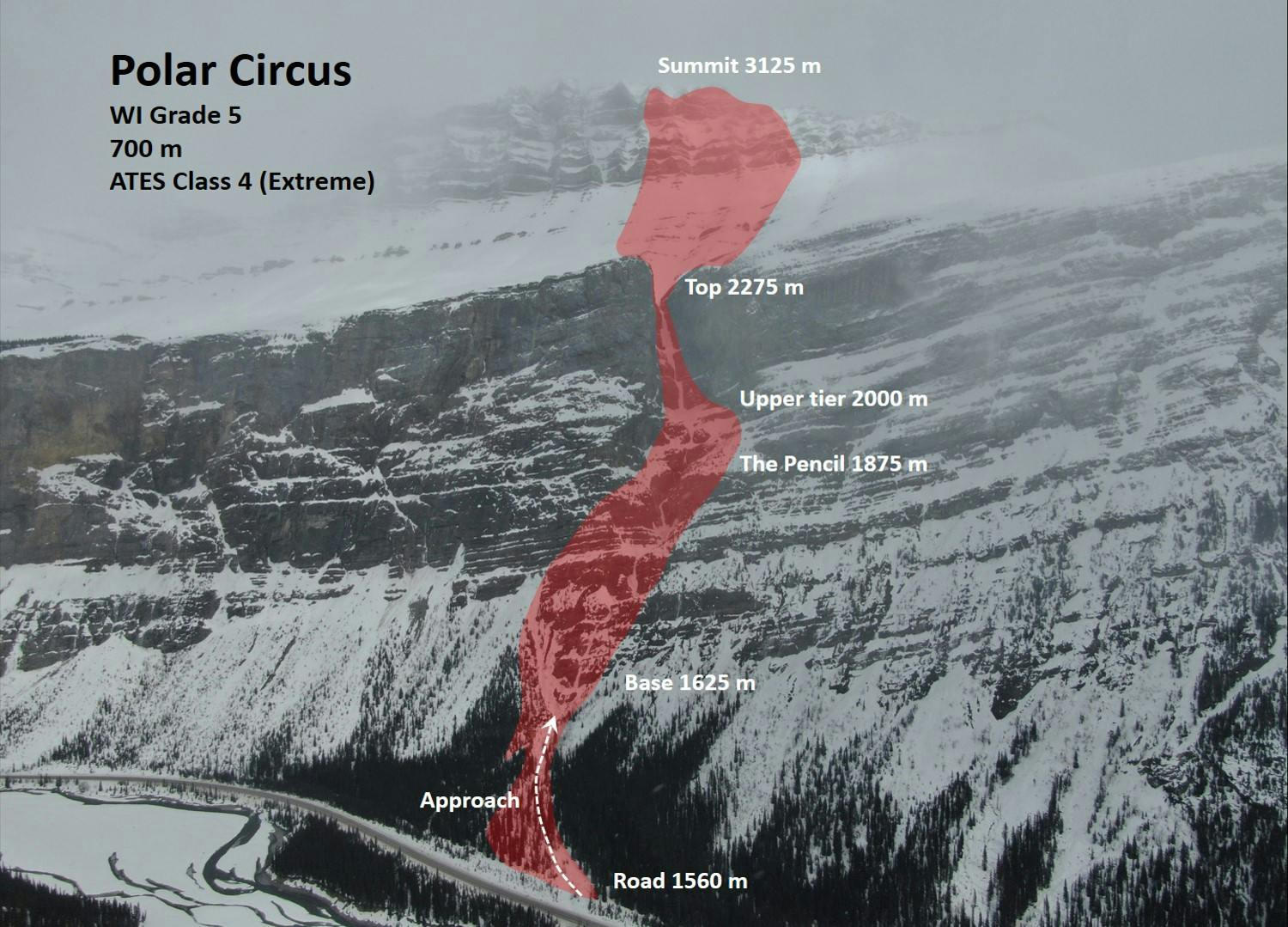 Polar Circus is likely the most sought-after ice climb in the world and is the ultimate route for an ice climber to tick off.  It offers about 10 pitches of mostly moderate climbing (up to grade 5 at the top) with a very short approach. The climb is located on Cirrus Mountain and has a massive amount of avalanche terrain above it that is not easily visible, unless you drive further up the road and look back. Polar Circus has serious avalanche terrain in between pitches of climbing and has been the site of several avalanche accidents and many close calls.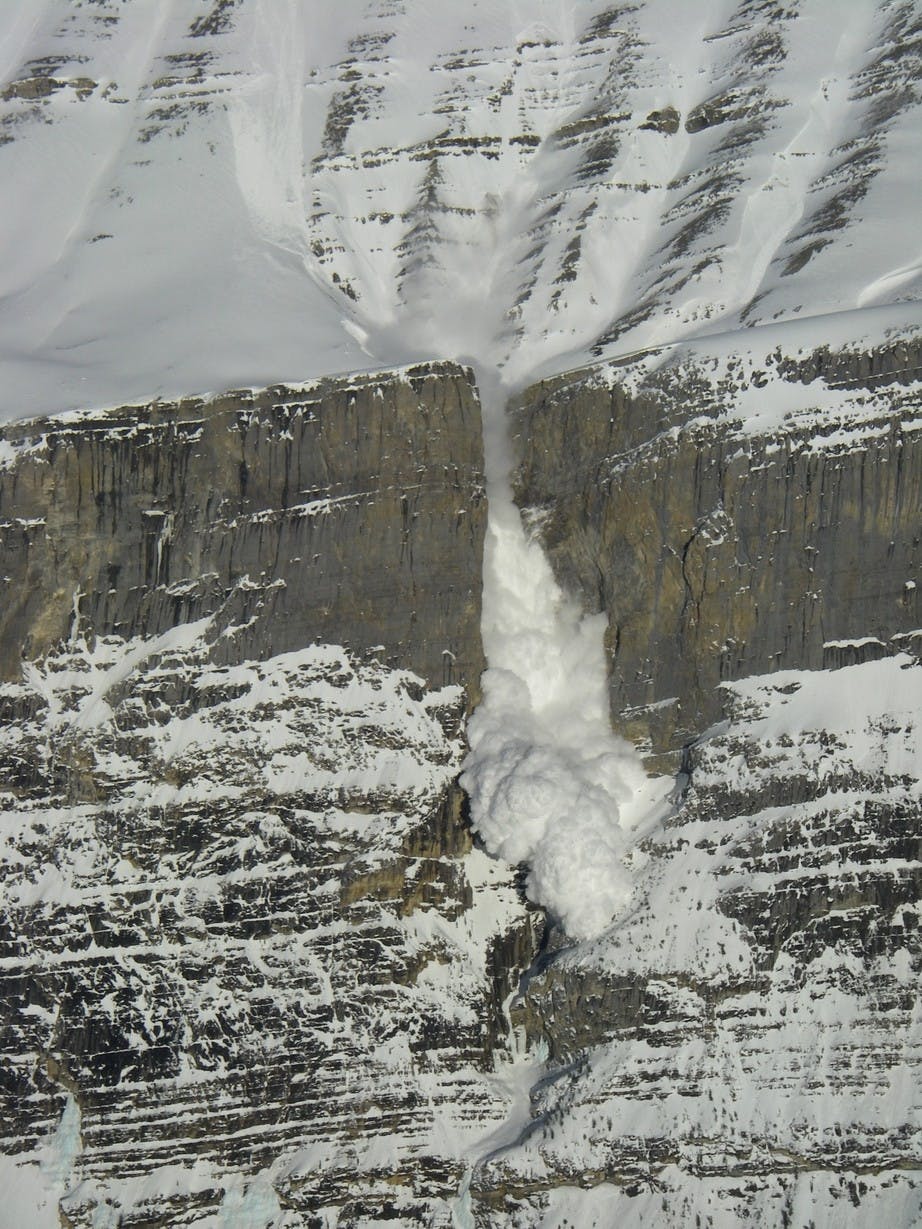 An avalanche over the waterfall. Photo: Max Darrah
Popularity
46 people completed this survey
67% had climbed it 1-5 times
15% had climbed it 6-12 times
15% had climbed it over 10 times
Avalanche Frequency
94% have seen debris on the climb or below it
6% have never seen any debris.
Time of Year and Day
85% of ascents and debris sightings were recorded February-April
44% in December-January
5% October-November
75% of avalanches were witnessed between 12:00-18:00
25% were witnessed between 06:00-12:00
Avalanche debris has reached as far as the highway and can be several meters deep. The first pitches can be completed buried with avalanche debris later in the season, as well as the walk around. Debris should be expected on all pitches of the climb.
Reported Avalanches and Incidents
Multiple avalanches and incidents, including fatalities, have been reported on all pitches of this climb
Several size 2 and 3 avalanches have been observed from the road or other climbs
A mid-day release from above the last pitch left debris, including small-car size blocks, on the shelf between the Ribbon pitch and the top pitch. A party leading the final pitch was struck and injured
Cornice failure has been observed above and climbers' right of the climb, triggering an avalanche
Cornice failure observed on climbers' left caused an avalanche that reached the base of the final pitches, injuring climbers there
Size 2, loose dry avalanche Feb 2019 almost hit climbers when it came through the notch
Numerous explosives-triggered avalanches have also been reported on this climb.
Some notable incidents include:
On February 5, 1982, ice climber John Lauchlan died from exposure as a result of being swept over the Pencil in an avalanche while solo climbing. John had recognized the hazard on the slopes above the Pencil and had gone high near the rocks to try and avoid crossing the centre of the slope. He triggered an avalanche and was carried into the gully below the Pencil
On February 5, 2015, Sgt. Mark Salesse, a Canadian military SAR Tech, disappeared while descending Polar Circus in a storm. Sgt. Salesse was last seen walking downhill and across the slopes above the Pencil while his partner was coiling rope at the base of the upper tier. When his partner followed the trail to the slopes above The Pencil, he found footsteps leading into a fracture line with no sign of Sgt. Salesse
On March 22, 2022, two climbers were descending below the Pencil when they were caught in an avalanche triggered by rockfall from above. Both climbers were carried over the grade 3 pitch below the Pencil, falling approximately 25 meters, with one party member sustaining serious injuries. Both climbers were rescued from directly below pitch 4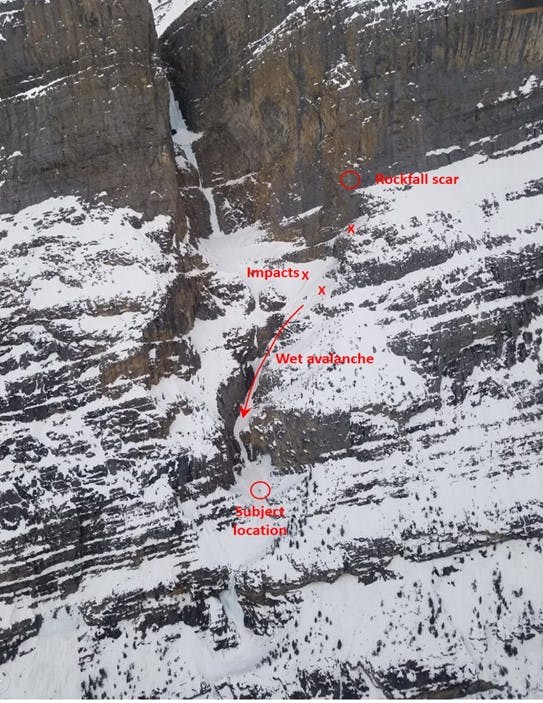 Photograph showing information relating to the March 22, 2022 incident.
Contributing Factors in Order of Significance
61% warming and solar radiation
54% winds
36% new snow
14% cornices or human/animal trigger
11% known reactive weak layer
Additional Notes from the Community
This climb has serious overhead hazard, with 10- 20 starts zones above the route. Assessing  the snow on the approach is only part of the picture. Above the climb are large areas of complex terrain that have the potential to produce significant avalanches that may feel like they happen with little warning. This area can also develop large cornices.
The consequences of being caught in an avalanche in this terrain are high. Even a small slide  could be serious. The runout from a size 2 can reach past the Pencil feature.
The amount of time spent climbing this route increases exposure. This includes  a stretch of consequential terrain as you turn the Pencil. Community members feel this route is one they would avoid in times of elevated avalanche danger or lingering avalanche problems. Wind slabs, loose dry avalanches, and warming are suggested as the most likely problems to be an issue on this climb.
Images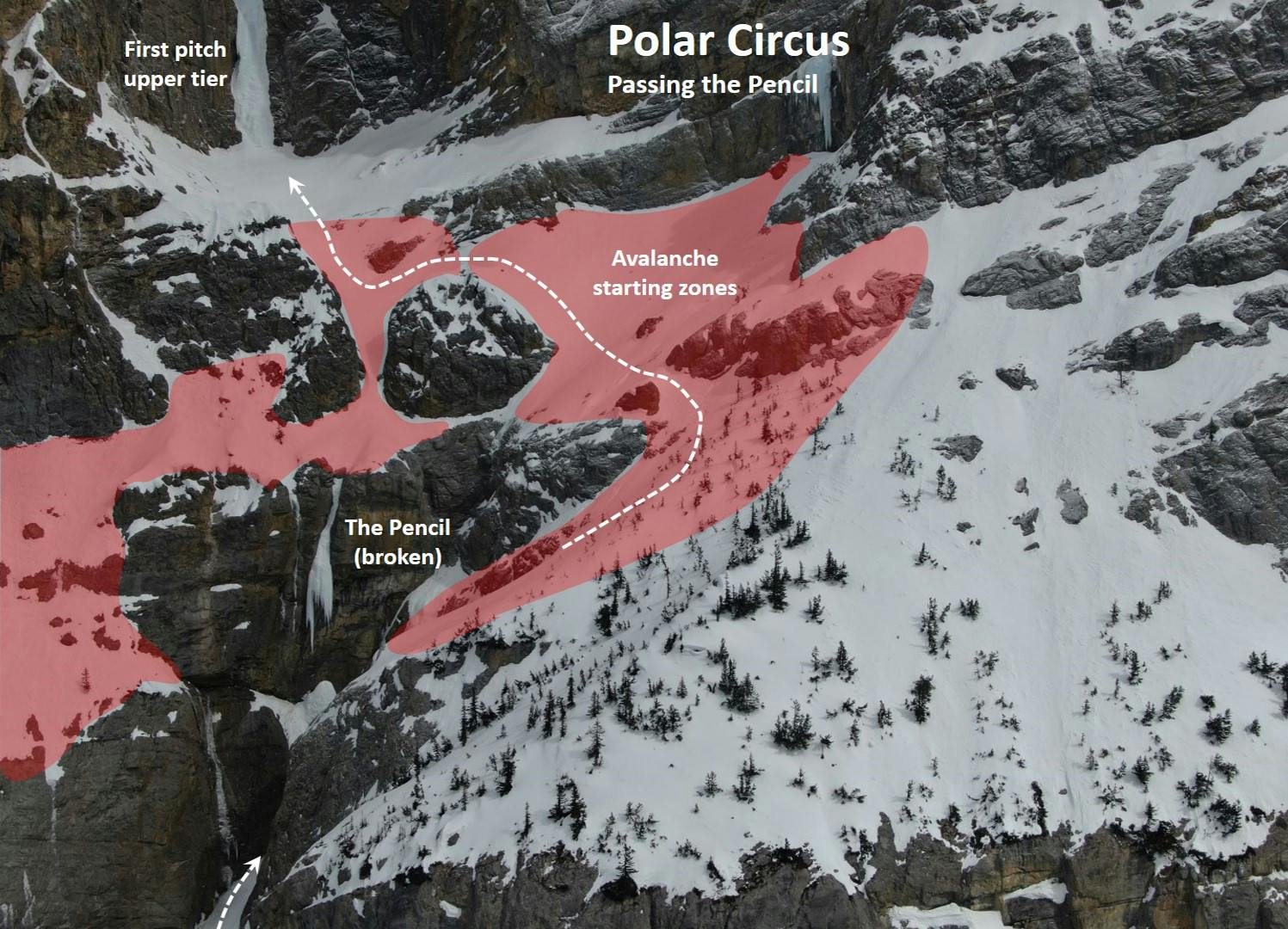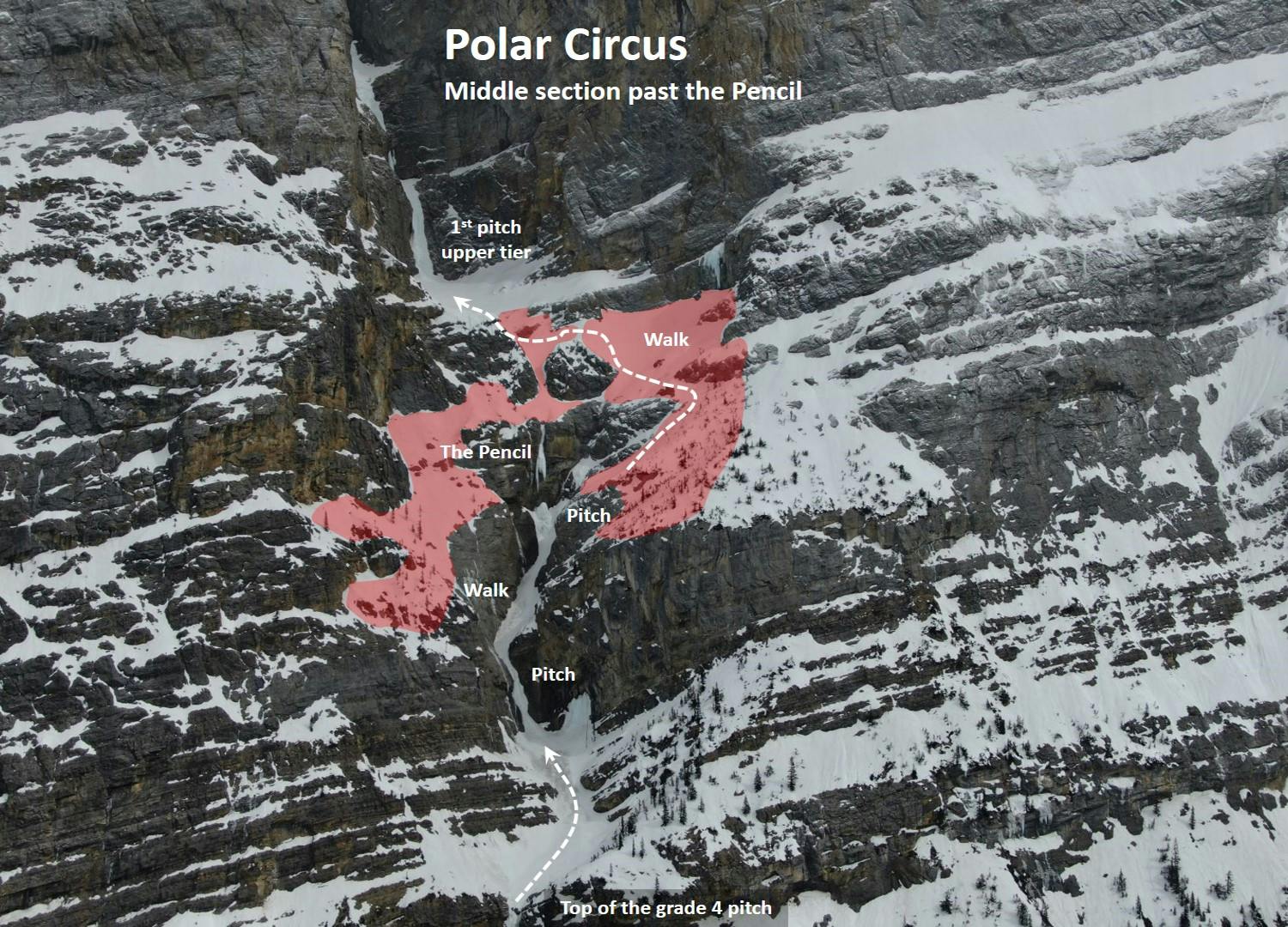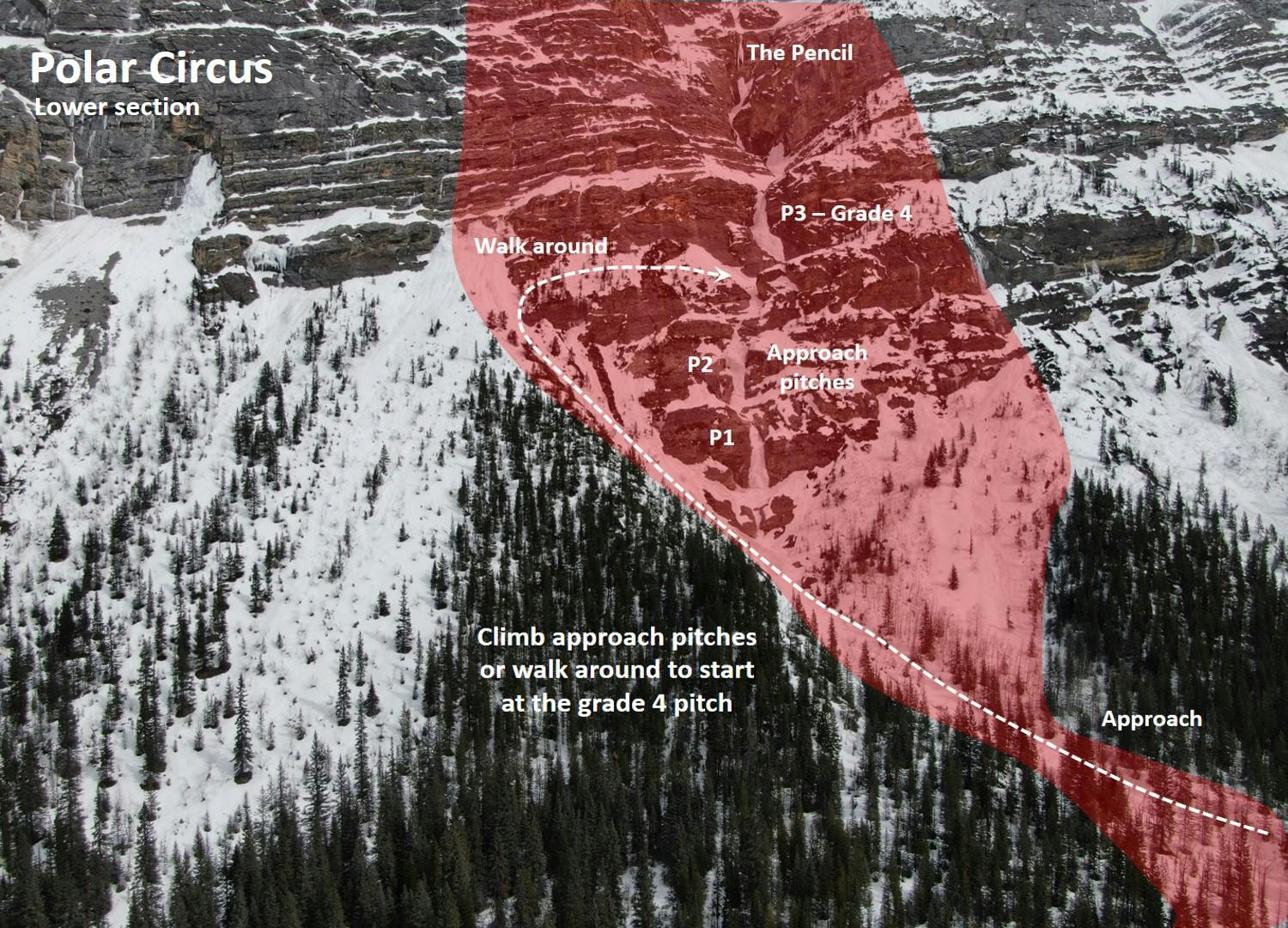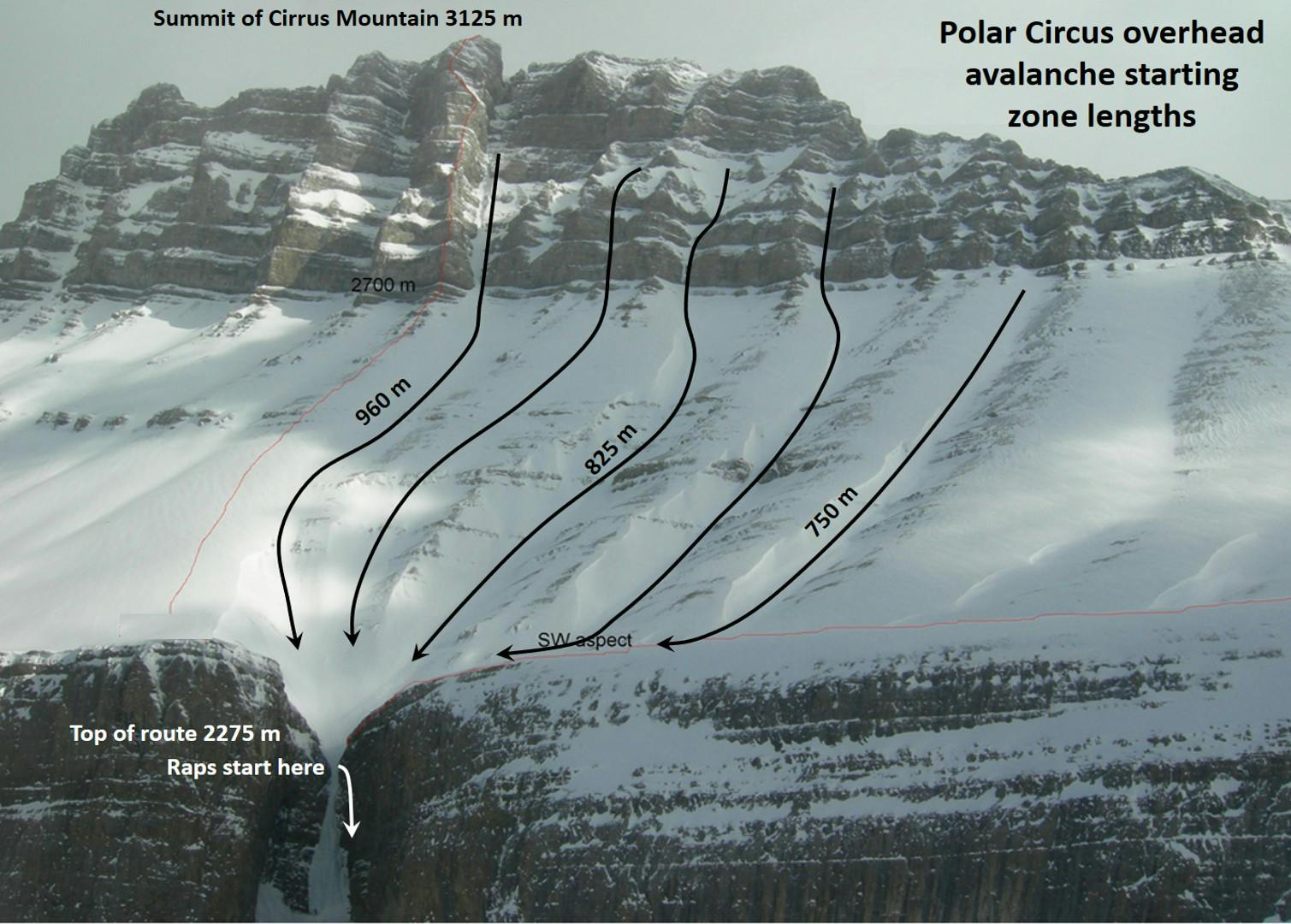 Summary
Polar Circus is a serious undertaking, both for its length and difficulty, as well as its exposure to avalanche terrain. From the moment you leave the car to the moment you return, you are exposed to avalanche hazard. Lack of effective sight lines make the overhead terrain difficult, if not impossible, to assess.  Once in the climb, you are susceptible to anything that comes from above, as you are in a deep cleft. Turning the Pencil is also an area of concern for human triggering and is tricky to protect.