Bourgeau Left-Hand and Bourgeau Right-Hand are neighbouring climbs on Mount Bourgeau near Sunshine Village.
Bourgeau Right-Hand
300m WI 4 m
ATES 4 (Extreme)
Bourgeau Right-Hand is a classic grade 4 ice climb with multiple tiers and steps. Parking is at Sunshine Village and it has about an hour approach. The pitches can often form quite thin and it isn't always a regular former. When it does form, it often falls apart later in the winter or gets covered by avalanche debris. This climb also has a great deal of avalanche terrain directly above it and on route, and gets a great deal of direct sun. Parks Canada occasionally (once every few years) does avalanche control above Bourgeau Right-Hand to protect the Sunshine Village parking lot below because the dust cloud from a large avalanche can blow right across the lot. Bourgeau Right-Hand and Left-Hand are both subject to legal closures by Parks Canada when they are doing avalanche control above the Sunshine road. Notifications are posted to the Banff-Yoho-Kootenacy avalanche bulletin and there are signs at the start of each approach trail that are flipped to say CLOSED.
Bourgeau Right-Hand has avalanche terrain above the climb and along the route.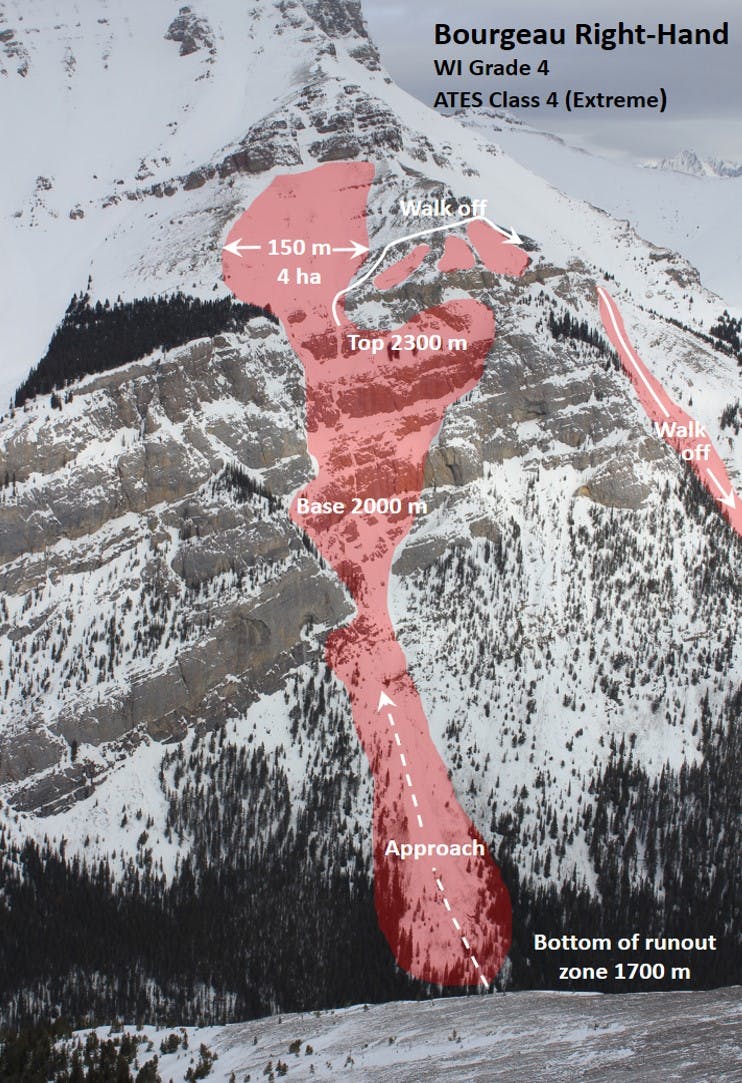 Popularity
26 people completed the survey
92% climbed Bourgeau Right-Hand 1–5 times
8% climbed it 6–10 times
Avalanche frequency
72% of respondents saw debris on the climb or below it, or on the walk off
28% have not seen any debris
58% have witnessed avalanches
Time of year and day
February- April, and December to January saw the greatest number of ascents and debris and lastly October to November
90% between 6:00am-12:00pm
20% of avalanches witnessed occurred between 12–6 p.m.
10% occurred after 6 p.m.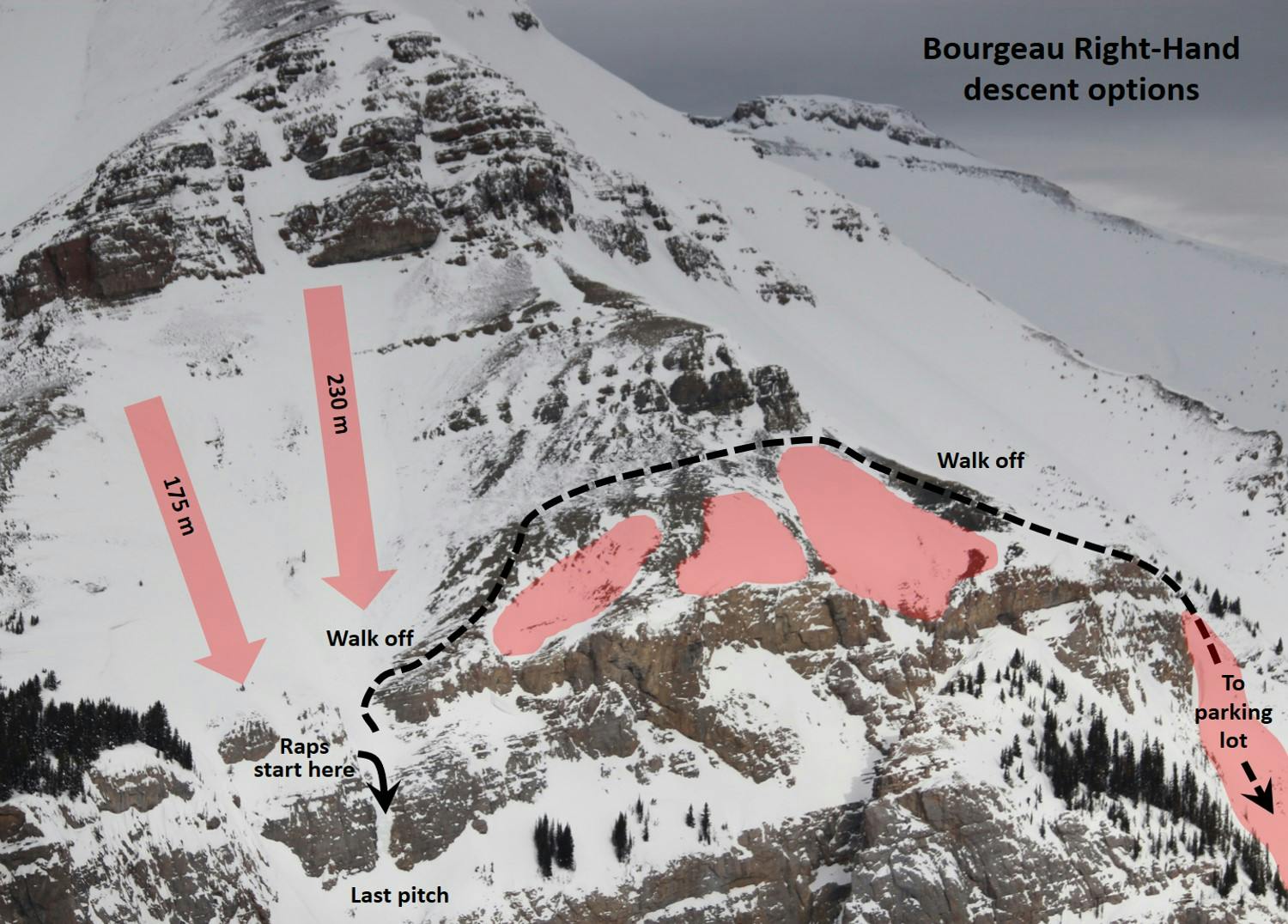 Runout debris
69% of respondents saw debris at the base of the climb
27% saw debris in between the pitches of climbing
8% saw debris above the last pitch
Notes on avalanche debris:
Debris piles were usually from size 3 or bigger avalanches
Debris has been seen 50 m below base of climb
There are large piles of debris well into the runout zone every year
One respondent remembers walking on old hardened debris on approach
One person was able to skip the last couple raps due to debris piles and walking on snow
Reported avalanches and incidents
I've seen an avalanche while on route. It was a size 1, but enough get us move quickly. I've seen avalanches from the gondola
Avalanches have been triggered by Parks Canada and Sunshine Village during control work. They have triggered huge avalanches that have run over the climb and dusted the parking lot below.
A small size 1 sluff occurred while we were on the second or third pitch when sun briefly came out. It was borderline big enough to knock off a climber. The sun went away, so we continued climbing.
I was hit by sluff on the climb. It was less than size 1.
The sun came out unexpectedly and our party bailed with some big sluffs missing us.
Contributing factors
75%: Warming and solar radiation
42%: New snow amounts
50%: Winds
25%: Known reactive layer
17%: Cornice or human/animal trigger
Summary
Bourgeau Right-Hand is a beautiful climb that commands much respect. It DOES NOT receive avalanche control with explosives, but does get closed when Parks Canada is doing control on adjacent paths and are concerned about remote triggering an avalanche. The climb has obvious overhead hazard and start zones between pitches. It is south facing and conditions can change quickly when the sun comes out. There is a walk off option that requires crossing the start zone on foot, so the standard practice is to rappel the route.