Bourgeau Left-Hand and Bourgeau Right-Hand are neighbouring climbs on Mount Bourgeau near Sunshine Village.
Bourgeau Left-Hand
150m WI 5
ATES 4 (Extreme)
Bourgeau Left-Hand is a prominent south-facing climb on Mt Bourgeau that is easily seen from the Sunshine Village gondola. With a moderate approach and a consistently steep four-pitch climb, this is a classic for those looking for a sustained grade 5 climb. The first pitch is often thin and can fall off a couple times in a season. This climb has a great deal of avalanche terrain directly above it and it DOES NOT get controlled by Parks Canada or the ski resort. Bourgeau Right-Hand and Left-Hand are both subject to legal closures by Parks Canada when they are doing avalanche control above the Sunshine road. Notifications are posted to the Banff-Yoho-Kootenacy avalanche bulletin and there are signs at the start of each approach trail that are flipped to say CLOSED.
Bourgeau Left-Hand sits underneath significant avalanche terrain that can produce large avalanches that sweep over the climb.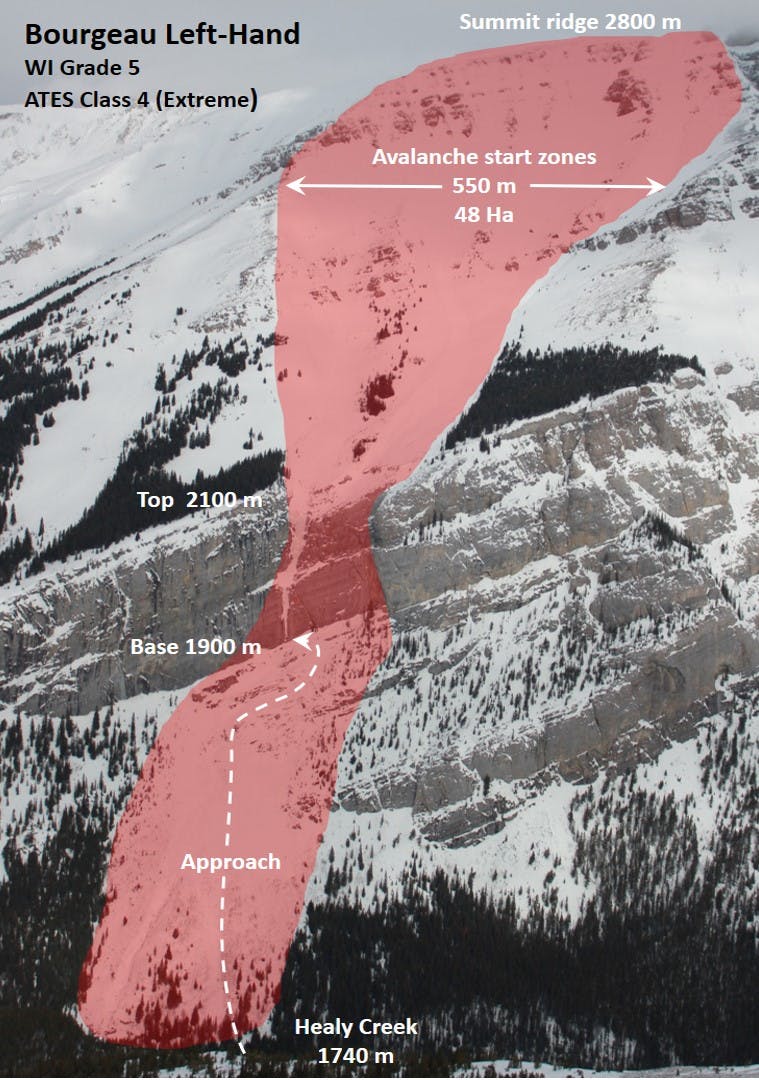 Popularity
22 people completed the survey
76% climbed Bourgeau Left-Hand 1–5 times
14% climbed it 6–10 times
10% climbed it over 10 times
Avalanche frequency
77% have seen debris on the climb or below it, or on the walk off
23% have not seen any debris
52% have witnessed avalanches on Bourgeau Left-Hand
Time of year and day
December–January saw the greatest amounts of avalanches, then February–April and lastly October–November
67% of avalanches witnessed occurred from 12–6 p.m.
67% occurred from 6 a.m. to 12 p.m.
11% occurred from 1–6 a.m. and 6 p.m. to 1 a.m.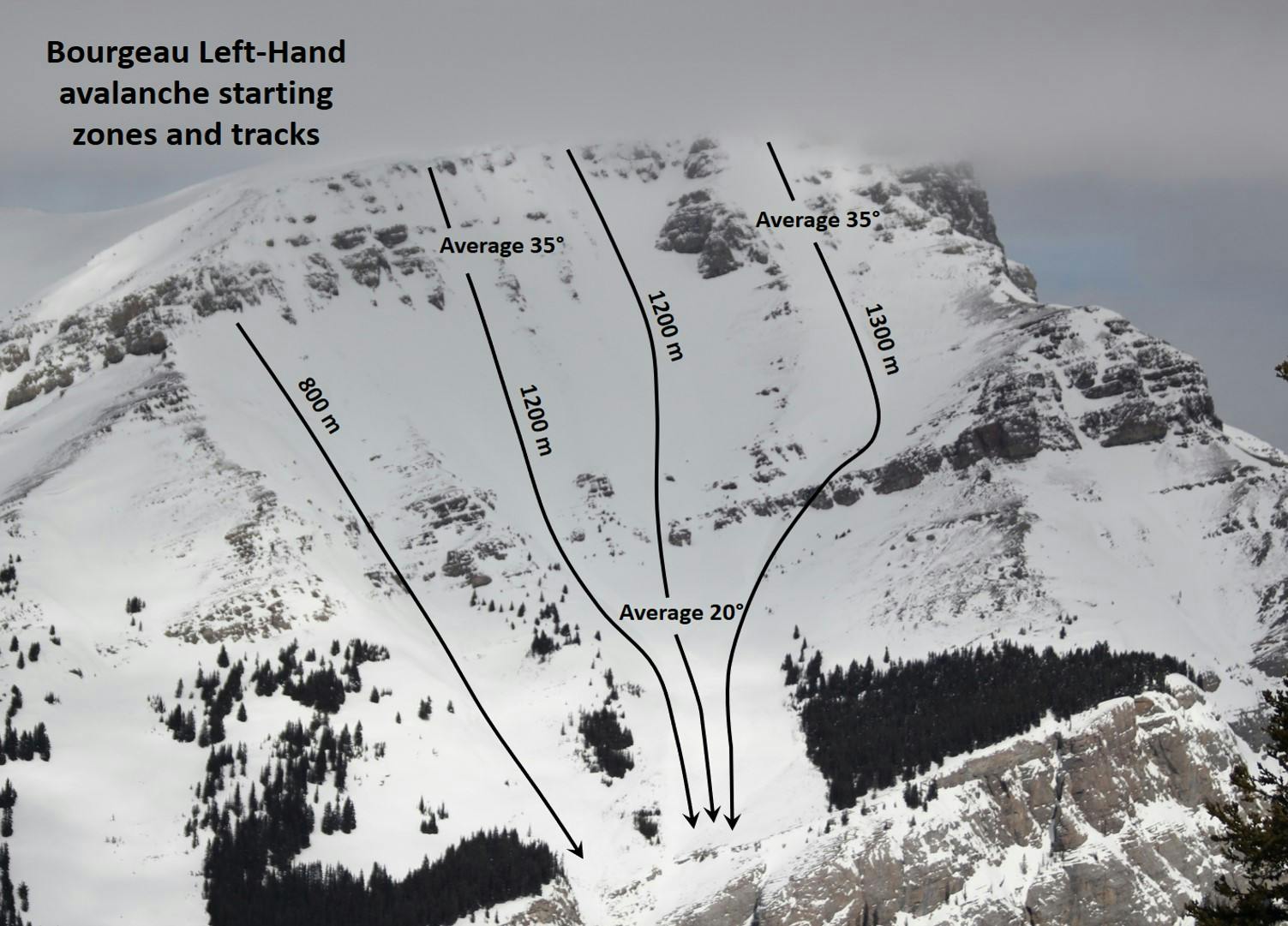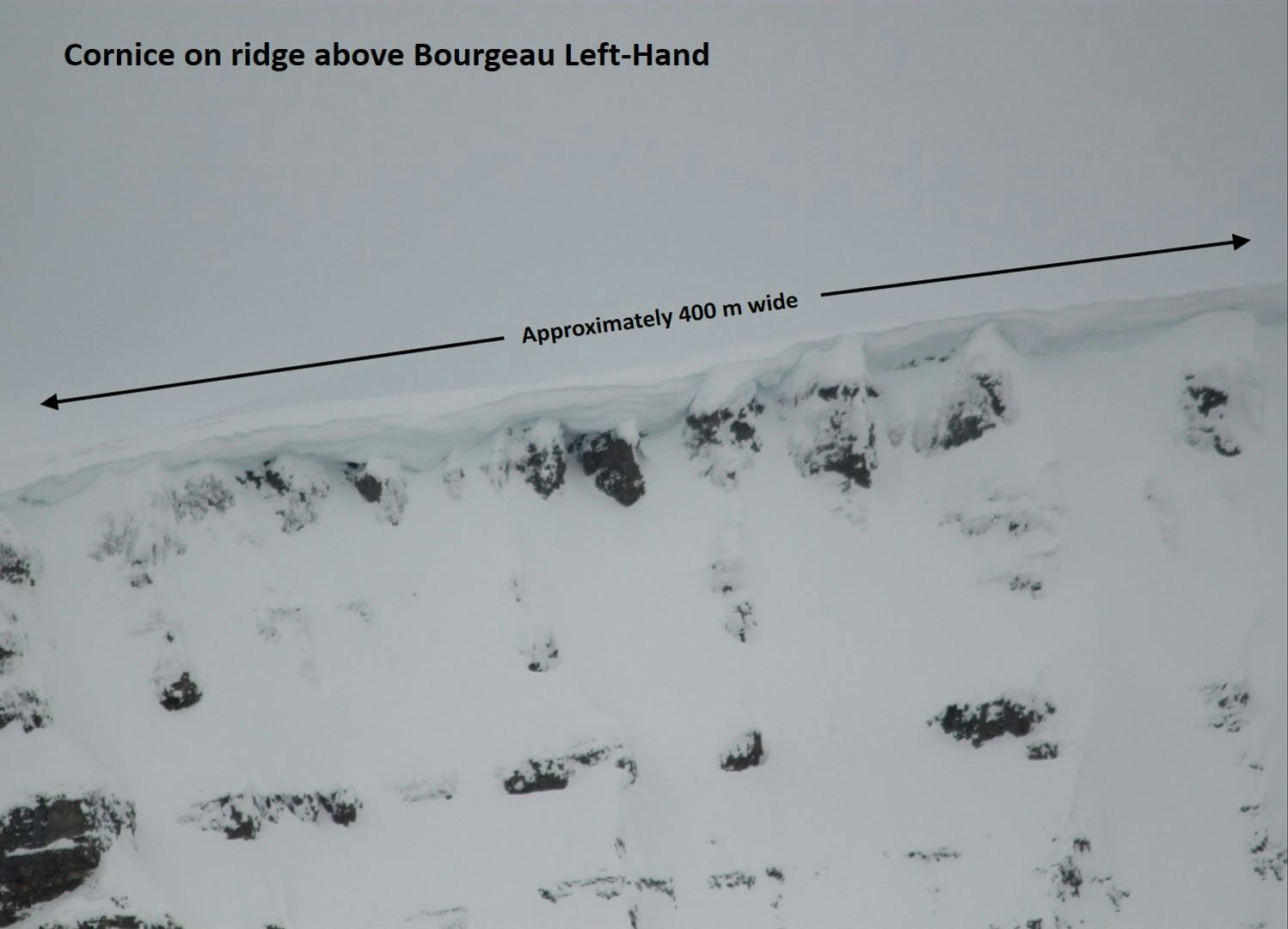 Top: There are four start zones and avalanche tracks above the Bourgeau Left-Hand climb.. Bottom: A large cornice threatens the climb.
Runout debris
69% of respondents saw debris at the base of the climb
27% saw debris in between the pitches of climbing
36% saw debris above the last pitch
Notes on avalanche debris
Many people noted seeing debris all the way down the avalanche path to Healy Creek.
Others described debris along the full runout, 200 m from the base, and half way down the path
One noted a pile of debris sitting just beyond the last pitch
Reported avalanches and incidents
We climbed to the cave below the final pitch. A big, man-size dagger was hanging over the cave lip so we sent it down. Upon impact on the slope below, the whole bowl above the first pitch avalanched over the pitch. The crown was 30 cm high. Later, on rappel, l landed on a ledge half way down and broke a big shell, 5–6 m across and 10 cm thick. The big piece landed in the bowl and triggered another deeper layer that also avalanched over the first pitches. There was no new snow in between the two events. Debris at base was size 2 and ran a few hundred meters.
I have seen natural avalanches run over the climb and am often notified when it happens because this is a high visibility area (great view from Sunshine gondola).
A huge class 4 originating from the upper slopes.
Many avalanche have been witnessed from the gondola.
I heard a story of an experienced guide who triggered a small wind slab on the ledge between pitches that could have been enough to carry them over the lower tier if they hadn't been on rope still.
An unknown climber went for a ride on the approach. Could have been worse.
Contributing factors
80%: New snow amounts
70%: Warming and solar radiation
60%: Winds
60%: Known reactive layer
30%: Cornice or human/animal trigger
Summary
The Bourgeau Left-Hand avalanche path is formally known by Parks Canada as Bourgeau 9 and DOES NOT receive avalanche control with explosives (contrary to popular belief) because the path does not affect the road or parking lot. The climb gets closed when Parks is doing avalanche control due to concerns about remote triggering from adjacent paths that are controlled. The route faces south and thus conditions can change very quickly when the sun comes out.