Date

Tuesday, December 14, 2021
K8 Mountaineering Club, Colour the Trails, Rocky Mountain Metis, and Indigenous Women Outdoors receive grants for AST course
Avalanche Canada is pleased to announce the recipients of the Mountain Equipment Company (MEC) Avalanche Safety Grant, which is providing Avalanche Skills Training courses to four BIPOC-led organizations.
"Avalanche Canada recognizes that racialized communities face disproportionate barriers in accessing winter backcountry pursuits in Canada," explains Gilles Valade, Executive Director of Avalanche Canada. "We are very impressed with the work being done by these four organizations and are grateful to partner with MEC to provide them with avalanche safety education."
The grant recipients are:
"K8 Mountaineering Club of Alberta is grateful for the opportunity from Avalanche Canada, being one of the recipients of the MEC Avalanche Safety Grant," says Leonard Maglalang, executive secretary of K8. "We believe mountaineering is for all walks of life and can transcend the perceived limits of our cultures and ourselves."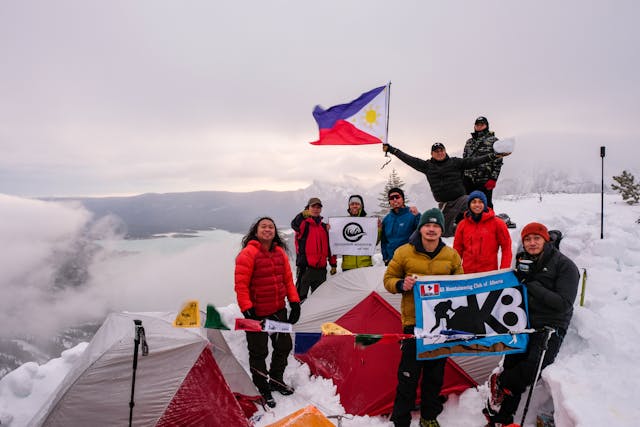 Members of the K8 Mountaineering Club on a recent winter camping trip near Nordegg, Alberta.
Thanks to generous funding from MEC, each group is organizing an AST 1 course with the provider of their choice for up to eight of their members.
"MEC wants to celebrate and encourage inclusivity in the outdoors through community support. We've put a larger focus on diversity, equity, and inclusion in the work we do with our national partners, which includes co-developing grants available to BIPOC-led organizations and supporting DEI training and development at partner organizations," says Caitlin Brown, community manager for MEC. "The MEC Avalanche Safety Grant is an example of how, together with Avalanche Canada, we're striving to make the outdoors more inclusive."
The MEC Avalanche Safety Grant was established to provide greater access to outdoor opportunities for racialized Canadians. Backcountry Access is also contributing to this initiative by providing two boxes of safety gear, each with eight sets of avalanche transceivers, shovels, and probes.
Avalanche Canada is supported by MEC's Outdoor Impact Program.