Cascade Mountain
WI 2 300 m
ATES class 3 (complex)
Rogan's is the deep gully left of Cascade waterfall. It has a very short approach and, depending on the snow and debris amounts in the gully, offers many short, relatively easy steps of ice with a final full pitch of stepped ice at the top. The climb and the avalanche slopes above face southeast and therefore get a lot of sun.
Popularity
22 people completed the survey
64% climbed it 1–5 times
18% climbed it 6–10 times
18% climbed it over 10 times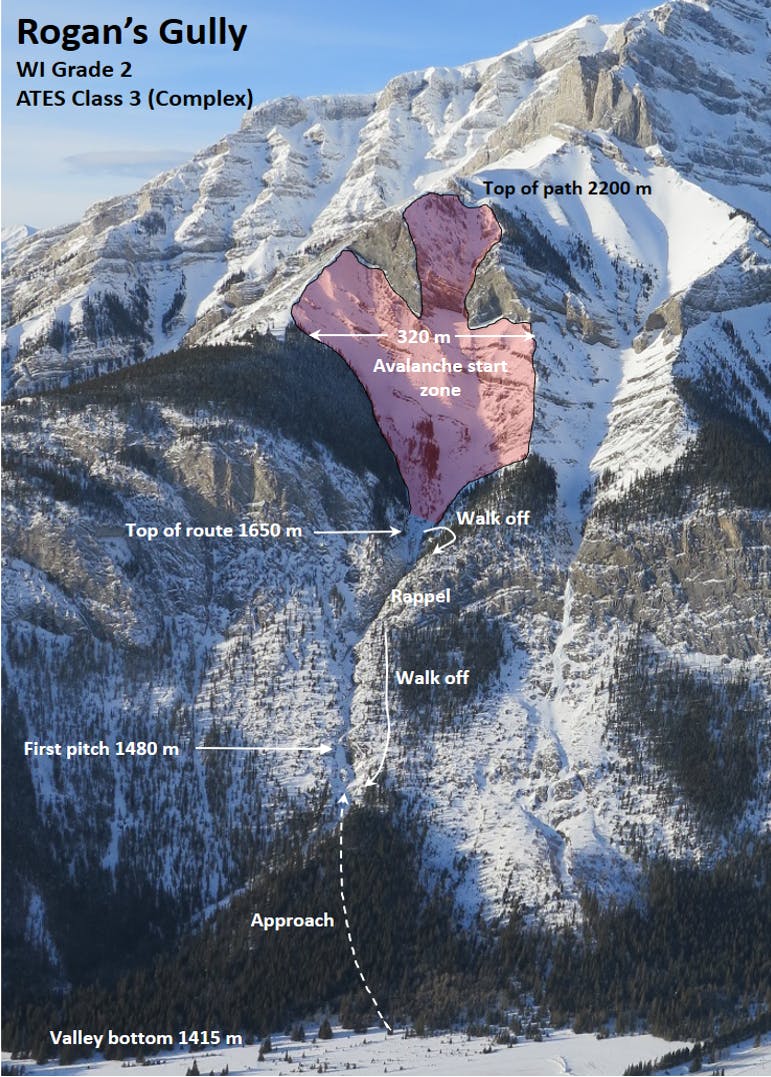 Avalanche frequency
82% have seen debris on the climb or below it
18% have not seen any debris
4% have witnessed avalanches over Rogan's
Time of year and day
December and January saw the greatest number of ascents and debris, then February to April, and lastly October to November
50% of avalanches witnessed occurred between 12–6 p.m.
50% occurred between 6 a.m. to 12 p.m.
Avalanche start zones:
33% believe the avalanche started well above the climb
33% believe it started right above the climb
33% were unsure where it started
Runout debris
32% saw avalanche debris at the base of the climb
59% saw debris in between the pitches of climbing
36% saw debris above the last pitch
Notes on avalanche debris
Debris down past the first pitch and into the fan has been seen by many. Sometimes it covers some of the first pitch up to 10 m deep.
December 2021: debris noted everywhere on climb and at the base by a few people.
Many noted seeing debris in the middle pitches enough to greatly change the character of the climb. Sometimes the narrows are filled with meters of debris throughout the year, but mostly after Christmas.
Many noted seeing debris piled up on top of the last pitch, having stopped prior to coming over the climb or from an avalanche that also went over the climb.
Seen debris many many times on it. By Christmas there is almost always debris on the upper third of the route and by mid-winter there is usually at least some debris to the base. The slopes above slide many times most years.
One person noted debris at the top out and covering the trail to walk off.
Reported avalanches and incidents:
Contributing factors:
Winds: 33%
Warming and solar radiation: 33%
New snow amounts: 33%
Descent
50% said they used the walk off
32% said they rap the route.
18% said they have used both
Summary:
Proximity to the road and relatively easy climbing make this a quick hit for many ice climbers.
Although there is less terrain above the route than its neighbour Cascade, once in the gully, it would be near impossible to get out of harm's way should something come down.
The walk off can help eliminate some time spent in the avalanche path
The southeast exposure is something to be aware of as an additional avalanche factor on a sunny day.