Catch up on recordings of our AvCan webinar series.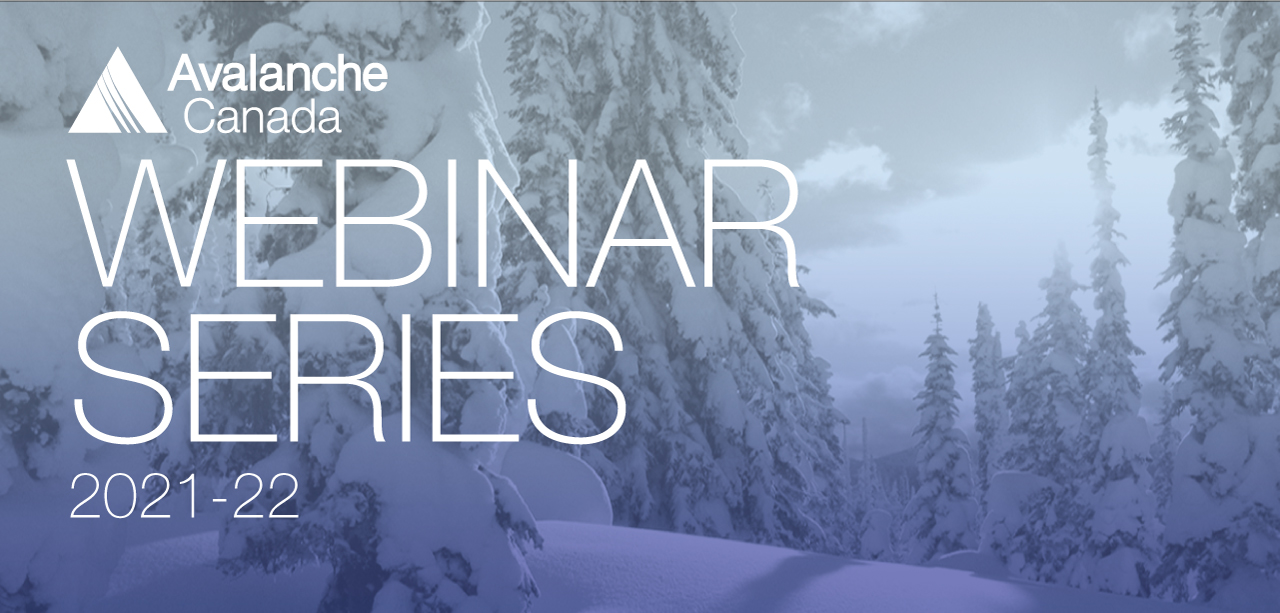 This season our webinars are back. We're hosting webinars focusing on various aspects of avalanche safety, geared towards different user groups. Missed the live event? Catch up with the videos here:
Webinar 1: One Stop Shop
Get the low down on how Avalanche Canada tools can make your winter safer. This webinar is full of helpful tips and tricks and it's suitable for all backcountry users.
Webinar 2: Recognizing Avalanche Terrain and Trip Preparedness
Are you new to the backcountry or looking for a refresher? We focus on the basics of avalanche terrain, how to recognize and avoid avalanche terrain, what equipment is needed and what resources are available. Join our Avalanche Canada forecaster, Colin Garritty, to decipher the nuances of terrain, recognize hazards and help you safely route-find on your adventures this season. We will also cover trip planning and preparedness with a presentation from BC AdventureSmart. Sponsored by MEC.
Webinar 3: Powder, Power, and Pitfalls. Leveraging social media and the MIN for a safer winter.
Social Media and the Mountain Information Network (MIN) can be important tools in our backcountry decision making toolbox, but how do we make use of these powerful platforms while avoiding their considerable pitfalls? Explore how the digital can support your outdoor adventures with South Rockies field technician Jennifer Coulter as she strives to build a resilient online avalanche community and improve public safety. Sponsored by MEC.
Webinar 4: Staying Alive.
Learn from the experts! This evening focuses on various resources in the Revelstoke area including RMR, Parks Canada, RevSAR, Revelstoke Snowmobile Club and Avalanche Canada. There are many tips to glean that will help you stay safe this winter in the backcountry. Troy Leahey, local guide and long-time patroller from RMR and Nick McNutt, pro-rider of deep pow legend will also present. Sponsored by CBT with support from RMR.
Want to catch up with last year's webinars? Find them here:
Webinar 1 : One Stop Shop
Webinar 2: Renshaw Case Study
Webinar 3: Avalanche Safety for Ice Climbers
Webinar 4: Recognizing Avalanche Terrain and Trip Preparedness
Webinar 5: Revelstoke Staying Alive Night
Webinar 6: Getting the Most Out of the Mountain Weather Forecast
Webinar 7: Choosing Terrain for Snowmobilers
Webinar 8: Riding Out of Bounds... What You Need to Know
Webinar 9: Being Pro - Using the Daily Process
Webinar 10: Be Avy Savvy - What SAR Wants You to Know
Webinar 11: Mt Harvey Case Study
Webinar 12: Close calls in the Newfoundland backcountry
Webinar 13: Choosing Terrain For Skiers
Webinar 14: South Rockies Update
Webinar 15: Low Probability, High Consequence Avalanches
Webinar 16: Why is March the Deadliest Month?
Webinar 17: Behind the 'Gram
Webinar 18: Cold snow in the Yukon and transition to spring