Date

Wednesday, March 10, 2021
ATES ratings for the Spearhead Traverse in Whistler have been added to the Online Trip Planner
Avalanche Canada's Online Trip Planner now includes the avalanche terrain ratings for the Spearhead Traverse near Whistler.
The areas were rated using the Avalanche Terrain Exposure Scale, which allows terrain to be classified into simple, challenging, or complex, depending on its avalanche potential.

Photo: A panorama showing the Spearhead Traverse, taken from Whistler Mountain. By Thom Quine, Wikimedia Creative Commons.
The American Friends of Whistler provided funding to map the terrain around the Spearhead Traverse, a tremendously popular backcountry ski-touring route connecting the summits of Whistler and Blackcomb mountains. The Spearhead Huts Society has built one hut and is planning two more along the route, making this route even more popular.
Creating these ATES ratings and placing them online makes it even easier for people to make safer choices as they navigate the Spearhead Traverse.
The Online Trip Planner combines the terrain ratings with the current avalanche danger rating, providing decision-making guidance for planning backcountry trips.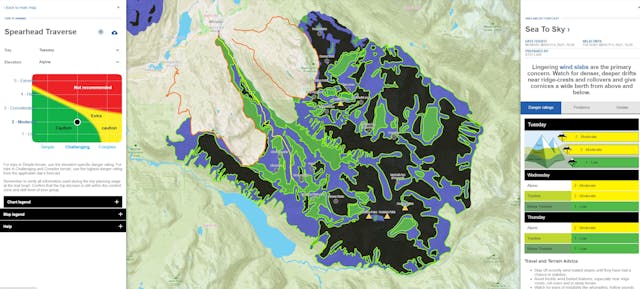 Recreationists can download ATES maps to their phones or GPS devices, allowing them to monitor what level of terrain they are in at any given moment and make travel decisions accordingly.
Creating ATES maps is a resource-intensive process and we are grateful for the support of our partners for enabling us to create the maps for these regions.