Date Issued

Monday, January 24, 2022

Valid Until

Tuesday, January 25, 2022

Prepared by

TRettie
Continue to use caution around wind loaded features. Previous strong winds will mean that wind slabs could be found lower down slope and propagate further then expected.
Travel and Terrain Advice
Keep your guard up at lower elevations. Wind slab formation has been extensive.
Avoid slopes that sound hollow or drum-like.
Look for signs of instability: whumphing, hollow sounds, shooting cracks, and recent avalanches.
Be especially cautious as you transition into wind affected terrain.
Avalanche Problem 1: Wind Slab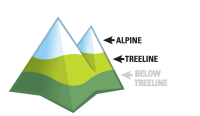 In the White Pass area, up to 40 cm of new snow has been redistributed by strong southerly winds into wind slabs in lee areas at all elevations. The strong winds could mean that wind slab is found further down slope then you might expect.
Avalanche Summary
When the sun came out on Friday, several natural loose wet avalanches up to size 1.5 were observed in thin snowpack areas inland from White Pass. These avalanches entrained most of the snowpack, pulling pockets of slab in the track.
Snowpack Summary
A significant storm brought around 40 cm of new snow to the White Pass area late last week. The accompanying strong to extreme southerly winds left a heavily wind-affected surface at all elevations comprised of deep deposits of hard wind slabs, sastrugi, and areas stripped back to the ground or old crusts.
Below the new snow, a variety of old surfaces exists including a thin rime crust at treeline and hard old wind slabs at higher elevations. In the past week, warm temperatures have promoted settlement and bonding in a hard, consolidated mid-snowpack. The lower snowpack is weak and facetted above the ground surface.
Weather Summary
Sunday night: some light flurries with light to moderate southwest winds. Low of -5 at White Pass.
Monday: Cloudy, light snowfall. Winds increasing to strong from the southwest. High of -3 at 1100m.
Tuesday: light snow throughout the day with moderate to strong southwest winds. High of -3 at 1100m.
Wednesday: light snow throughout the day with light to moderate southwest winds. High of -5 at 1100m.