Date

Tuesday, March 22, 2022
(and why we'd love to see your post, whoever you are!)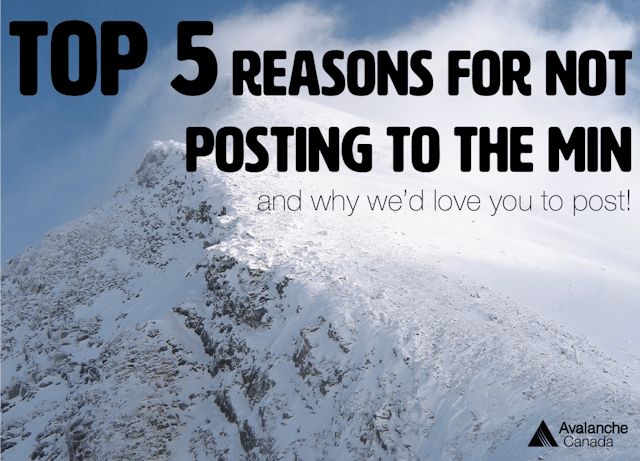 The Mountain Information Network (MIN) is one of our most powerful tools for creating accurate forecasts and planning backcountry trips. And the best thing about the MIN is that it gets better when you use it—the more people post, the more useful it becomes. So, we've been on the lookout for the reasons people use for not posting. After much deliberation (ok, maybe only a little deliberation) we present the top five reasons you might not be posting to the MIN, and our reasons why we'd love you to post anyway:
"I don't know enough"
Even if it's your very first time in the backcountry, you're qualified to write a MIN! All you need to do is share what you see. Some of the most helpful MINs we see don't contain any technical language at all, but they do give a good description of what people noticed. Here are some things you might be able to share in your report:
- What weather you saw
- What the snow felt like under you or your machine
- Any cracking, whumpfing, or signs of avalanches you noticed
- How the riding was

"Nothing happened"
Sometimes, knowing what didn't happen is every bit as important as knowing what did. Letting us know conditions were as expected helps us with accurate forecasting. Validating our forecasts is important and very tricky for us to do. Letting us know what you saw was in line with the forecast helps us build a more accurate picture of what is happening. And the better that picture, the better your forecast.

"I don't want to blow up my spot"
We get it. We wouldn't ask for you to share your secret spots. Tagging a location close to the good stuff is enough to be useful. Choose the staging area, a nearby road or landmark, or an area close-by that is already busy. Any of those options allow us and other recreationists to see what conditions were like, while keeping your secret stashes secret. Read our blog on how to give the info without giving up the goods.

"I don't want people to judge me"
It's hard to post something publicly if you think there will be backlash. The good thing about the MIN is there's no option for people to offer feedback on your post. It's simply a forum to share information. There's no judgement here. In fact, we strongly value talking about mistakes we might have made in the backcountry. We've all made them and if we can learn from others, all the better. Whether it's about a mistake or a weather report, every post is a piece of information that could keep someone else safe. We appreciate them all!

"Conditions are good. Why would I share that?
We like to think there's enough backcountry for everyone to enjoy. You don't need to sign post the way to the best snow in your report. Keep the location vague, but remember good conditions are still conditions, and the more we know, the more accurately we can forecast. Posting that you had an epic day on the MIN helps us to understand more about how the snow is behaving and what might happen next.
Want to learn more? Here are some extra resources to get you started on your MIN journey.
Having technical issues with our app or website? Let us know by emailing support@avalanche.ca