Date

Friday, October 28, 2022

Author

Colin Garritty, Lead Field Tech/Forecaster - Vancouver Island
Well, it's official. The summer-that-wouldn't-end has finally drawn to a close and winter is off to a vigorous start across the mountains of Western Canada. It's only the last week of October and already the reports of keeners chasing the season's first powder turns are trickling in. It's game on!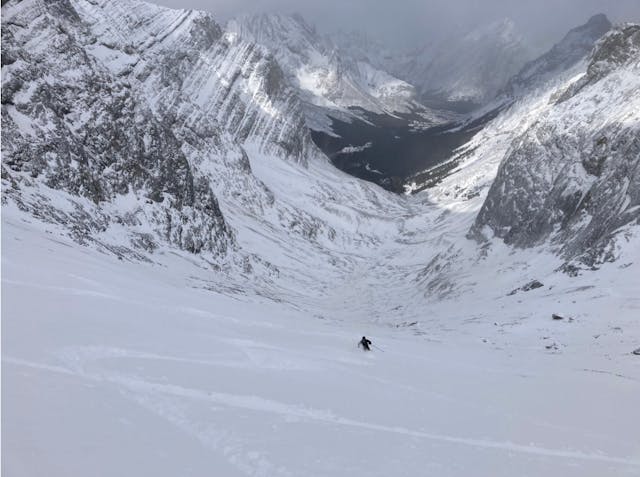 A nicely covered slope in Kananaskis Country. Photo: Andrew Venning
Of course, this also means the avalanche risk management game is on as well, so now is a great time to review the playbook. 
Gear Check
Before heading out, be sure to check:
Your Transceiver
Do you have fresh batteries installed?
Is there a firmware update from your manufacturer?
Does your transceiver need a service? Your manufacturer will have instructions on how often you should get your unit serviced. For example, Arva transceivers should be serviced every 3 years.
Check with your manufacturer to make sure there are no recalls on your unit. 
Check carefully for any leaked acid or corrosion in the battery compartment. If you find any, send your unit back to the manufacturer for service.
Shovel
Look for cracks or other damage. Strongly consider replacement if you find any.
Remember that aluminum corrodes! Clear any corrosion from connection points and consider lubrication if connections aren't smooth, or to prevent corrosion in the future.
Confirm push pins or other fastening systems are working smoothly and properly.
Probe
Like your shovel, look for cracks or other damage to cables or probe sections. Strongly consider replacement if you find any.
Again, clear corrosion from connection points and apply lubrication if connections aren't smooth.
Test your probe's assembly and disassembly.
Airbags and Pack Contents
Be sure to check with the manufacturer's instructions for your airbag. There are so… many…types… and all of them have different service and care instructions.
Check for updates to your airbag. Just like transceivers, some require regular updates to keep them working smoothly. 
Spend some time going over your pack contents. Consider backcountry fundamentals like first aid, survival, and repair kits.
Weather and Conditions Check
The first Avalanche Canada forecasts won't be issued until November 25, although partner organizations like Parks Canada will be a step ahead of us with their forecasts going live in the first week of November. This means there's a good chance you might be creating your own avalanche forecast if you're heading out for early season turns. For this, you'll need a weather forecast and, ideally, some snowpack information.
For the big weather picture, keep an eye on the Mountain Weather Forecast at avalanche.ca. Remember, for avalanche formation, your key factors are new snow amounts, wind speed and direction, and temperature. To drill into the details on a more local scale, check out spotwx. We recommend the GDPS model for a general picture and longer-range thinking, and the HRDPS and RDPS for higher resolution forecasts that cover a smaller area over the near term. Don't forget to check weather station links on our homepage for current conditions on the ground.
These will be particularly valuable if you're seeing reports of avalanches. If you aren't seeing anything local to you. It's a good idea to keep your plans modest, expecting unfriendly access and snowpack conditions until proven otherwise.
In the absence of official avalanche danger ratings, a good option for estimating avalanche danger in your neck of the woods is the Dangerator. With just a bit of weather and snowpack info, this tool can help you establish a broad picture of the avalanche danger and it's a good place to start for making smart choices. A big plus of using the Dangerator is that it allows you to integrate the Avaluator decision-making tool into both the big picture of trip planning and your slope-scale decisions.
Beating first chair at Whitewater Ski Resort. Be sure to check your local hill's in-bounds touring policy.  Photo: Brad McBeath
Once You're Out in the Terrain
There are a few questions to cycle through as you move through the terrain and make decisions about how to manage conditions.
Are conditions what we expected to find? Or are they significantly different? If they're different, how should you adapt your plan? Treat any signs of instability as a big red flag!
Is it over threshold amount of snow for avalanches? Think about what the ground cover is like where you are and recognize it will change as you move through elevation bands. If it's smooth ground, like many of the alpine destinations folks will be scrambling for this weekend, relatively little snow can form an avalanche.
At what elevation does reasonable coverage give way to a minefield of early season hazards? It can be tempting to push your descent as far as you can slide but barely buried stumps, rocks, and blowdown will punish the bold at this time of year. Know when to switch back to travel mode on your way down.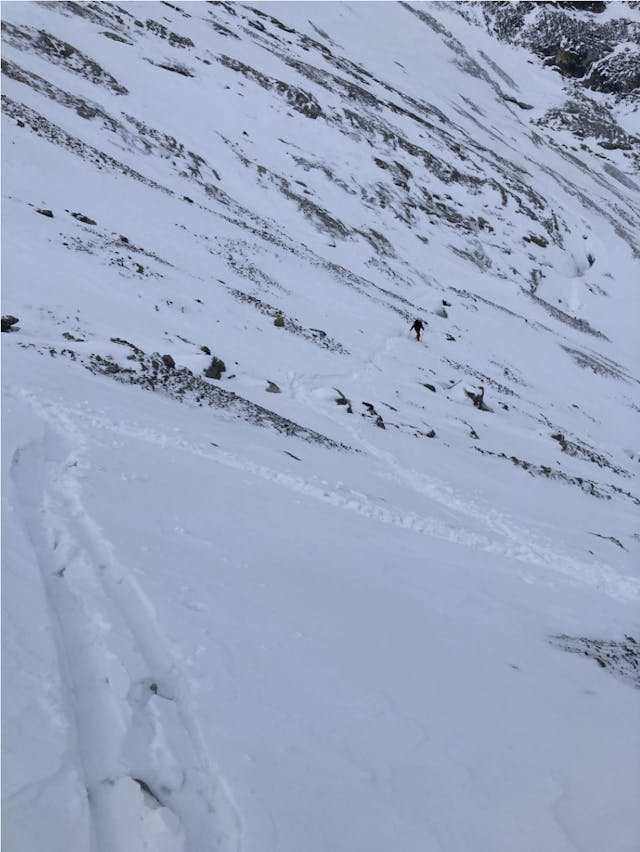 Swimming with sharks in Kananaskis Country. Photo: Andrew Venning.
After Your Trip
Once you get back from your early season foray, don't forget to post your observations to the Mountain Information Network. The more info we get, the better everyone in our community will be able to plan conditions-appropriate jaunts out in the hills. For even more advice on managing early season conditions, head here.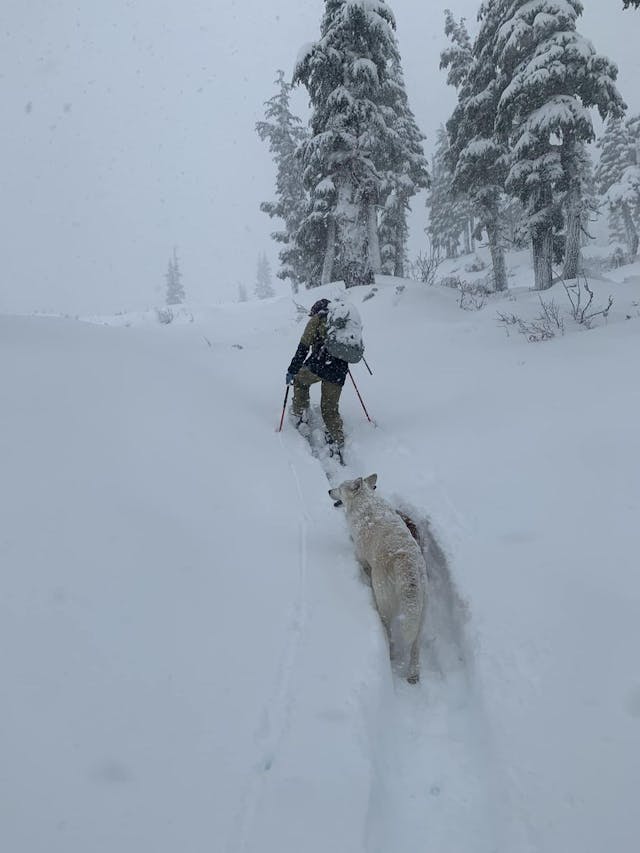 Nothing 'ruff' about this coverage in northwestern BC. Photo: Sebastien Charest.
Brace Yourselves..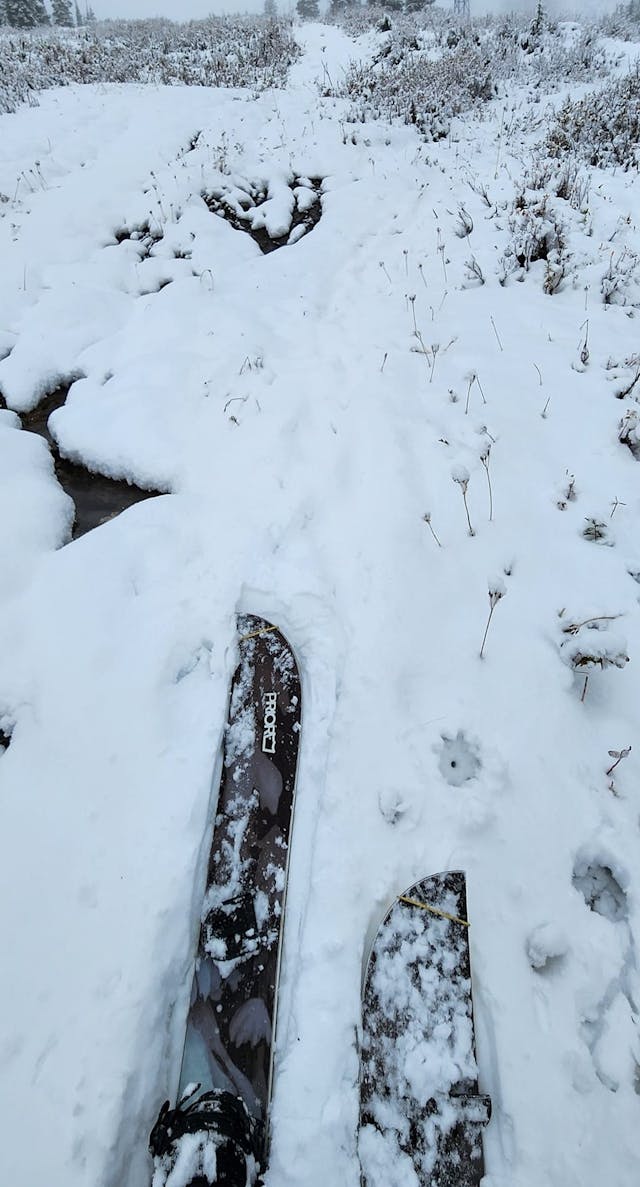 There are still lots of early season hazards at play in the northwest too though. Photo: Travis Carter.
Perhaps the best thing to keep in mind at this time of year is that winter is long and conditions are certain to improve. This is a terrible time of year to get set back by an injury (or worse)—especially if the conditions you're chasing after are marginal. Stoke levels are high, and rightly so, but there's a LOT more snow coming. We promise. 
See you out there!